Norsk, the low-code live streaming SDK from id3as, has announced a partnership with EZDRM, the original DRM-as-a-Service (DRMaaS) provider, to provide easy-to-integrate, robust security for live video streaming services. See for yourself how it works in a demo at IBC 2023 on September 16 at 11:30 a.m. CET at EZDRM's stand (5.A67), "Make Live DRM Easy with Norsk and EZDRM" (sign up here to secure your spot).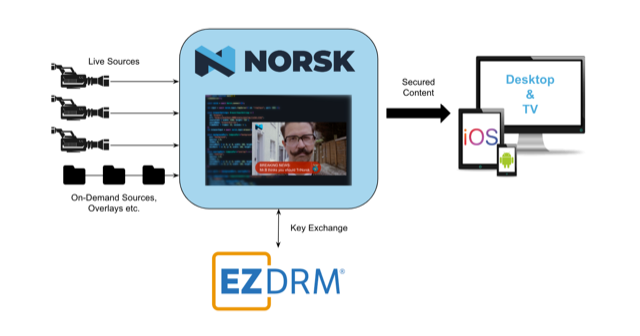 Norsk enables developers to easily create amazing, dynamic live video workflows and deploy them at any scale, all in just a few lines of code—freeing them from the limitations of off-the-shelf solutions and the cost and resource demands of trying to build custom workflows from scratch. The partnership means that Norsk customers can take advantage of EZDRM's simple and robust content security options across a wide range of consumer devices, including support for Universal Complete, PlayReady, WideVine, FairPlay, WisePlay, and ClearKey.
"Since Norsk's mission is to Make Live Easy for media publishers and system integrators alike, it's only fitting that we would partner with EZDRM, which has established a track record of simplifying digital rights management," says Dr. Adrian Roe, CEO of id3as, the company behind Norsk. "Security is a crucial concern for our customers, whether they're monetizing their content or just need to make sure only the right people in the right places are watching their streams."
"We are always pleased to collaborate with those in the industry who share our enthusiasm for simple, robust solutions to act as the foundation of an innovative streaming business," commented Olga Kornienko, COO and Co-Founder of EZDRM. "The approach that Norsk offers is truly innovative, and offers a seamless integration with our DRMaaS solutions to provide scalable content protection for a growing live streaming marketplace."
Can't make the demo? Set up a meeting with Norsk during IBC!